Health Care Data
Here are some health care visualizations we're experimenting with. If you'd like to see more, give us a yell.
Let's start with Medicaid enrollment in New York State:
Here is a static image of a decision tool we've built to aid managed long-term care plans to choose skilled nursing facilities to contract and refer to. Although this is a static image, the actual tool is highly interactive and includes some decision aids such as the ability to test the effects of different pricing levels.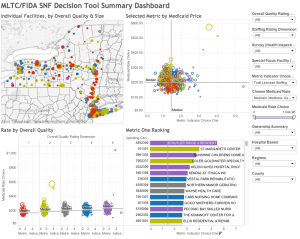 MLTC SNF Decision Tool