Andrew Cuomo, Governor of New York in his combined State of the State and Budget Address, January 21, 2015.
"When people complain about high taxes in New York, they're talking about the property tax."
OK, how much, for what and where? Mostly schools and secondarily counties. These data are for over 3,200 local governments outside of New York City. They include:
School districts
Counties
Cities
Towns
Villages
Fire Districts
The data are from annual financial reports submitted by each local government to the Office of the State Comptroller. In some cases, local governments have not submitted their reports or have not submitted them timely. Not all local governments use the same fiscal year. For purposes of simplicity, in all cases, the data are displayed based on the calendar year that fiscal years end.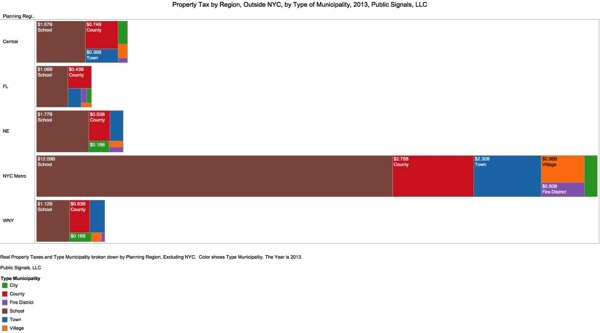 Here's a table with the summary numbers: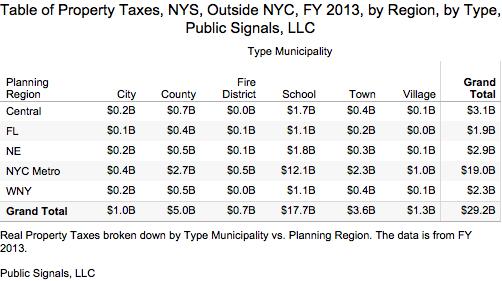 And the trends? Again, schools. Though it's hard to see in the detail, in the aggregate, village property taxes now exceed those levied by cities.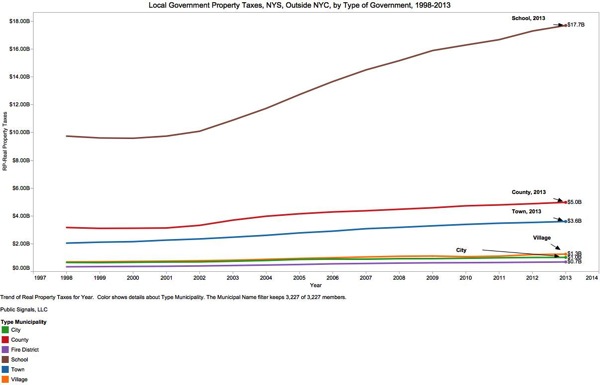 As is so often the case, there's lots of variability. In this graphic, each dot represents a local governmental unit, color coded by type, and organized by region.
Hope you find this useful.