Continuing the discussion regarding the City of Albany, one of the participants was concerned about debt and the potential for taking on excess amounts. That's always a legitimate concern.
So I ran some comparisons. In the first, for selected cities in New York, you'll see a really good indicator. That is debt service (principle and interest) as a percentage of revenue. Along with the actual rates, you'll see the trend and average for each entity individually. Additionally, the grey band that runs across the entire graphic represents 80 – 120 percent of the average of all entities shown.
For purposes of comparability, these cities have populations between 25,000 and 199,999. Each column has the trend data for a city. You'll see the actual data graphed from 1998 to 2013. In this graphic, there's no data for Ithaca for 2013.
Please pardon the small print. Here's the same graphic as a PDF: Public Signals LLC Selected NYS Cities Debt as Pct of Rev 1.pdf
Some quick observations:
Albany and Troy look average and relatively stable. The average for Albany was 9.9 percent and for Troy, it was 8.4.
It looks like the City of Niagara Falls either paid off some debt or got a big and recurring chunk of revenue. I'd bet on the former.
The trend of greatest concern would be for the City of Binghamton. Though in the most recent year shown, 2013, the numbers came down from their particular peak, the overall direction may be a concern.
The trend for Saratoga Springs is also upward sloping, but it started from a relatively low base so even in 2013, it's lower than most.
Interestingly, there appear to be more cities whose numbers are trending downward than upward. Auburn, Jamestown and Rome declined and then stabilized, but North Tonawanda, Schenectady, Syracuse, Watertown all showed a pretty steady decline.
Here's a simpler view for 2013: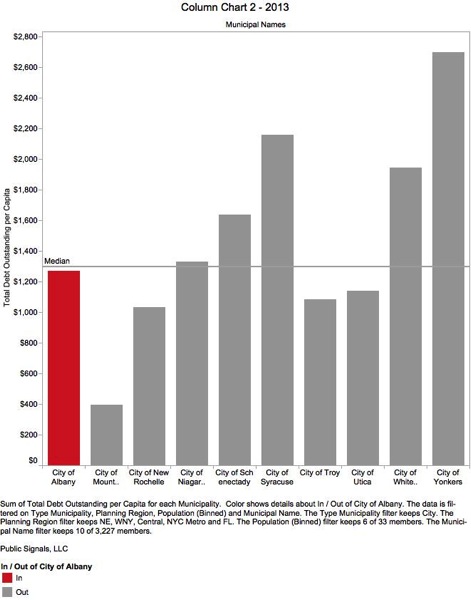 None of this is to suggest that there is a "right" rate. Moreover, it's important to recognize that rates may be higher in places that have invested more on upgrading and maintaining infrastructure and capital assets and that if well targeted, that can benefit the community and improve its economic prospects. That's a more sophisticated analysis than what's offered here. But making these sorts of comparisons among similar jurisdictions and over time is essential to awareness and insight.
Hope you find it helpful.